Image

Our Thirsk Business Member in the Spotlight this month is Kristina's. Thank you Kristina for sharing your business with us...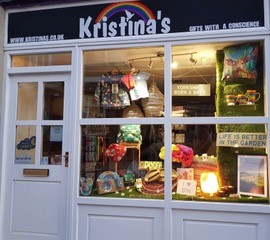 1. When did you start your business? 
2015
2. What led you to start a business/how did it all begin?
 
It was always a dream of mine to run my own little shop. Andy and I got married in 2014 and had the best time planning and celebrating, going back to the daily grind just didn't feel right. We decided I should quit my job and start a business so I did.
3. What do you like about Thirsk?
 
I  love the community in Thirsk, there is always someone there to help you through offering advice or just being an ear. I have found people have been so supportive of me and my business even when I had my little one and started taking him to the shop with me. It can be chaotic in there are times but everyone just embraces it, its great.
4. What is your most popular product/service?
This is a difficult one as the range is so diverse now. I would say the Frugi baby clothing range and the refillable products are some of the best sellers.
5. What other local business do you support? 
I love shopping local and support local business where I can. I have used Nicki Cawood copywriter for some help with content I have used My Little Graphics Co for designing business materials and you will often find me sat in the window of Tea Time Yorkshire with the little fella. We as a family enjoy supporting the local businesses in and around Thirsk.
6. What is the best part of your job?
For me the best part of my job is sourcing and buying fabulous ethical products to share with my customers. I listen to what people are asking me for and really enjoy researching different brands and products.
7. What is the best piece of advice you would offer a new business in Thirsk?
Stick with it, don't give up when the growing gets tough. If you are really passionate about what you are doing, go with it and embrace the ride.
8. Fun/amazing fact about your business people might not know?
I made the sign above the shop myself!
9. What does the next decade look like for your business?
I hope to continue building Kristina's by listening to my customers and bringing them a great range of ethical gifts clothing and green living products.
Thank you Kristina for being our September member in the Spotlight. If any of our members would like to be featured in the near future please email at thirsk.business@gmail.com