Image

Our Thirsk Business Member in the Spotlight for October is R

osa Fothergill 

from Tea Time Café (Tea Time Yorkshire Ltd):
1. When did you start your business?
September 2019
2. What led you to start a business/how did it all begin?                                                                                     
I started my first business Tea Time Catering, 5 years ago when moving back home to Yorkshire after traveling. I just wanted to do something of my own with my own ideas. Then in September 2019 I took the plunge to take over an existing coffee shop in Thirsk. Over the last year I have rebranded, repainted and redesigned the whole place to put my stamp on it. We have changed the menu to focus on using local seasonal and even some homegrown produce. I have managed to get a lovely team of staff together and we pride ourselves on delivering friendly service and making everyone feel welcome.
3. What do you like about Thirsk?
Thirsk is a close community with so many friendly faces, the people of Thirsk are amazing, and it is so nice to get support from so many locals. It is also surrounded by some amazing countryside for those days off!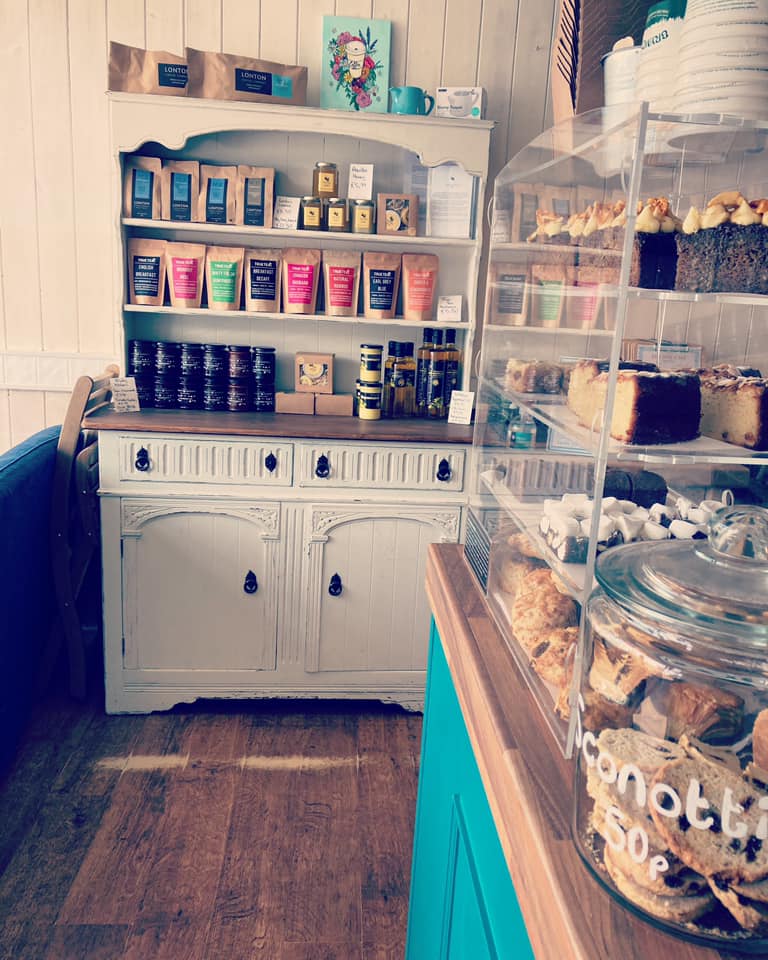 4. What is your most popular product/service?
Well we have a few.. our full Yorkshire breakfast, our Teas from True Tea co. (Harrogate) and our freshly baked scones go down a treat too! 
5. What other local business do you support?
Especially in these times I think it is more important than ever to support each other in our local community. A few local mentions we like to support Arthur Haighs (Dalton) for all our pork and of course their Doreen's Black pudding, Carl's Fruit and veg we get daily deliveries, we also use Thirsk Greengrocers, Kristina's we are starting to buy eco friendly cleaning products and soap, Asenbee Honey we use both on the menu and sell there delicious honey and also beeswax candles, Plus numerous other Yorkshire food businesses.
6. What is the best part of your job?                                                                                                                          
I love food, it is my passion in life and to be able to see happy customers enjoying what we have served is great. I have spent so much time selecting and building relationships with quality local suppliers to ensure our customers get amazing food and drink at great value. Plus, I can often be found eating cake for breakfast so that is also a great perk to the job!
7. What is the best piece of advice you would offer a new business in Thirsk?                                    
Your business will probably change along the journey and you will have to adapt to lots of different situations. But make sure you stick to what you believe in and go with your gut instinct even if other people are telling you it's crazy! If it doesn't work the first time keep trying, but don't lose the values that you go into business with at the start. Also make friends with other local businesses even if they are direct competition, you never know when you will need a helping hand.
8. Fun/amazing fact about your business people might not know?
I trained as a chef for 10 years before starting my first business and have worked in two 2 Michelin starred kitchens for both Raymond Blanc and Michel Roux Jr.
9. Favourite book/famous person that inspires you?
Someone who inspires me to keep going on a daily basis, after working a long day in the café, but I still have some baking to do is Annie Mac bringing me all the music and good vibes on the radio to get me through!
10. In what ways have you had to adapt your business in 2020?
We have had so many challenges with Covid19 this year. In March we had to close for over 3 months we also lost a lot of the events, weddings and festivals this year. During lockdown we started delivering bake boxes to YO7 addresses which is a weekly box containing different flavours of a loaf cake, scones, biscuits and traybake each week delivered to your door. We are also just starting these up again with the new announcements of more restrictions over the winter, we wanted to be able to bring some joy in the form of cake!  In the café we have made this as safe as we can with a lot of extra cleaning procedures, hand sanitiser upon entry, we have track and trace system in place, we have separated our tables further apart and implemented mask wearing for staff and also  now for customers when walking around but not for when seated.
Thank you Rosa for giving us an insight into Tea Time Cafe and Tea Time Yorkshire. To find out more go to:
Website: www.teatimeyorkshire.co.uk/
Facebook: www.facebook.com/Teatimecafethirsk
Instagram: teatime_yorkshire/
Email: rosa@teatimeyorkshire.co.uk
 
Please get in touch if you want to be included in our monthly 'Spotlight On' feature, please email thirsk.business@gmail.com for full details.