Image

1. When did you start your business?
I launched with my business with a solo exhibition in December 2017 at The Station - Richmond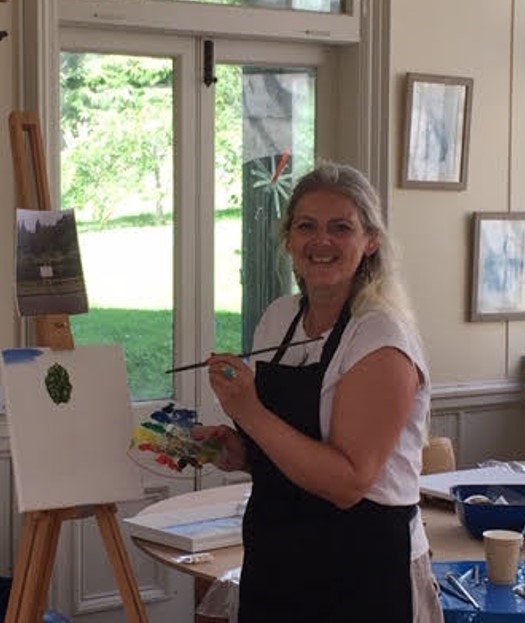 2. What led you to start a business/how did it all begin?
Quite honestly, I wanted more flexibility so that I could spend more time with my lovely family and three sons and a job that had longevity and life balance! A friend suggested I go look at an exhibition, I went, bumped into the manager and came out having booked a solo exhibition!
3. What do you like about Thirsk?
It is friendly, people are supportive, and I love how many independents there are, it is a lovely mix! Of course, I also love how near to the countryside we are!
4. What is your most popular product/service?
My art classes and workshops are my most popular services and products are my Original artwork and my greetings cards.
5. What other local business do you support?
As many as possible! I buy a lot of the tools of the trade from the art shop, work with local shops to sell my products, brought in other service providers to help with websites and graphic design for my business. I also do a lot of shopping locally from other makers and independents. I love hand made with a lot less plastic and waste too!
6. What is the best part of your job?
Having the ability to use my creativity and skills to make a difference to someone's daily life and bring joy to them! It is wonderful when I can be a little trigger to someone improving in confidence through teaching in a way that they have not experienced before! Or people's faces when they receive or open an original bought for a special occasion is heartwarming!
7. What is the best piece of advice you would offer a new business in Thirsk?
Be honest and have confidence in your product or service and be genuinely thankful for your customers- kindness, respect and good communication are important.  Listen to your intuition too, it is a particularly good guide and be open to learning and to making mistakes. You are human!
8. Fun/amazing fact about your business that people might not know?
My long-term goal is to be able to buy a house or more, give it to a charity to manage specifically for people and their families to have a free holiday or space for a few weeks following a difficult or traumatic time so they can get back on their feet and know that someone was there for them.
9. Favourite book/famous person that inspires you?
WILL I AM the singer who has used his success to create equal opportunities for many young people through setting up and funding schools to provide excellent education for children in financially underprivileged areas to reach their potential And the author Eckhart Tolle who through his books is able to give insight and understanding about how the brain works and awareness which in turn improves mental health around the world. Pretty wonderful!
10. In what ways have you had to adapt your business during the Coronavirus pandemic?
Taken my classes online, learned how to teach on zoom and how to use a hand cam! It has been a learning curve but have loved it and has been lovely to connect with a supportive community which has grown into teaching older children and teens online as well as 1-1s. It has also opened my classes to others across the UK.
Thank you Becky for giving us an insight into your work. To find out more or to get in touch with Rebecca go to:
Website: https://rebeccajayneartist.co.uk
Facebook: www.facebook.com/RebeccaJayneArtandDesign
Instagram: www.instagram.com/rebeccajayne_art
Email: RebeccaJayneArtandDesign@outlook.com 
Please get in touch if you want to be included in our monthly 'Spotlight On' feature, please email thirsk.business@gmail.com for full details.