Image

We are kicking off our Spotlight On feature for January 2021 with Julie Gilbert from 1st Mortgage Services...
1. When did you start your business?
I started 1st Mortgage Services in 2008, just before the financial crash – I've always enjoyed a challenge!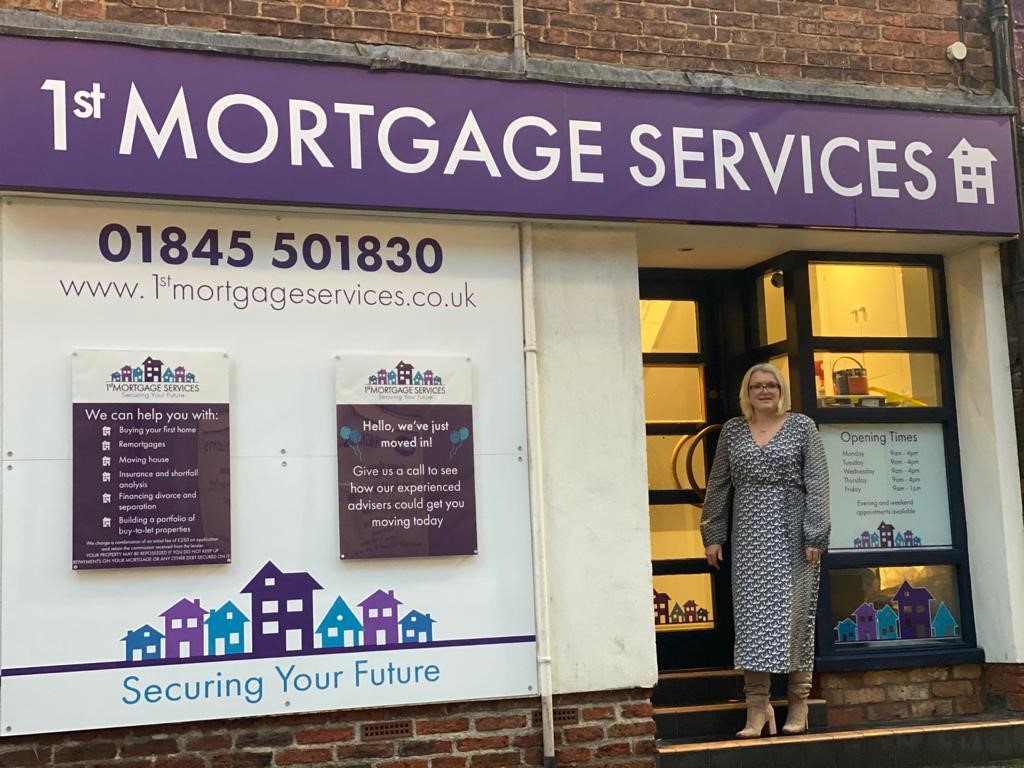 2. What led you to start a business/how did it all begin?
I'd been a mortgage adviser for 10 years. I had always wanted my own mortgage brokerage since I started in the industry at 18 years old. Right from the beginning I loved everything about the occupation, most of all being able to help clients, and I longed to do it for myself.
In 2008, it was the right time to set my business up, before I started a family. It all began out of the spare bedroom in my little house, working 24 hours a day to build it up! Over the following 13 years, I've slowly grown the business to employ a small team of 6, providing clients nationwide with non-judgemental & friendly financial advice.
I've also been raising two lovely children during this time (it's been a busy few years!) and now that they're older, I feel I can commit more time to taking the business to the next level. I'm so excited to have opened our head office right here, in Thirsk marketplace in December 2020 and can't wait for the next chapter of 1st Mortgage Services.
3. What do you like about Thirsk?
I love the community in Thirsk. There's such a sense of togetherness that you only find in a lovely small market town like this – Thirsk is filled with amazing people and strong traditions. Having grown up around Masham, I moved to the Thirsk area in 2007 and this is firmly our home. I'm so proud to be able to move my business right into the heart of the town.
4. What is your most popular product/service?
Mortgage and insurance advice – we support clients in making the right decisions to help them buy their house and then protect it from scenarios that are out of their control. The thing I love most is providing a continual supportive service throughout a client's mortgage lifetime.
5. What other local business do you support?
Whether it's for business or personally, I think it's so important to shop local. We've used local firms wherever possible to get the new office up and running, from Calverts Carpets to Thirsk Decorating Centre.
There is such a wealth of fantastic businesses in Thirsk, I'm looking forward to being a bigger part of this vibrant community.
6. What is the best part of your job?
Helping people – there's nothing more rewarding than supporting someone through a difficult time or enabling a young person to buy their very first home.
7. What is the best piece of advice you would offer a new business in Thirsk?
Be approachable and down to earth.
8. Fun/amazing fact about your business that people might not know?
We're not boring!! Although we're all finance people, we have lots of fun both in and out of work and have clients' best interests at heart at all times.
9. Favourite book/famous person that inspires you?
It's so hard to pick just one book but I love autobiographies as I like to learn about who people really are and their life stories.
I think Nelson Mandela is truly inspirational. I find it incredible that he got through all those years in prison and then went on to become the president and not be in anyway bitter from the course his life took.
10. In what ways have you had to adapt your business in 2020?
We needed to adapt like many businesses very quickly back in March, switching from seeing clients in person to holding appointments in whichever way works best for them – over the phone, Zoom, MS Teams, Webex, the list goes on!
All this was done, of course while also enabling our staff to work remotely. We've needed to keep motivation up, check in regularly and really get more out of every hour we put in, as we've felt more than ever how precious time is! It's been the norm for me to work in the family environment but it was unfamiliar territory for many of my staff with young children – it's been crucial to be understanding of everyone's individual situation and we've pulled together as a team!
Thank you Julie for giving us an insight into 1st Mortgage Services. To find out more or to get in touch with Julie go to:
Website: https://1stmortgageservices.co.uk
Facebook: www.facebook.com/1stMortgageServices
Instagram: www.instagram.com/1stmortgageservices
LinkedIn: www.linkedin.com/company/1st-mortgage-services
Email: info@1stmortgageservices.co.uk
Please get in touch if you want to be included in our monthly 'Spotlight On' feature, please email thirsk.business@gmail.com for full details.