Thirsk Coworking Group Dates 2019 - Q2 May - Jul 19
Image

The Thirsk Coworking Group is a popular FREE informal coworking event for freelancers, small business owners, homeworkers and those who are otherwise self-employed. Those attending are free to bring their laptops and paperwork etc and enjoy working alongside others, collaborating, chatting and so on. Sessions such as these are great for accountability (getting that piece of work done that you procrastinate over at home/the office), sharing experiences, offering advice and support as appropriate and working alongside like-minded individuals.
Thursday 2 May - Book here
Monday 20 May - Book here
Friday 7 June - Book here
Monday 17 June - Book here
Thursday 4 July - Book here
Monday 15 July - Book here
This is NOT a networking meeting. Please do not bring marketing materials to hand out or consider this an opportunity to advertise your business.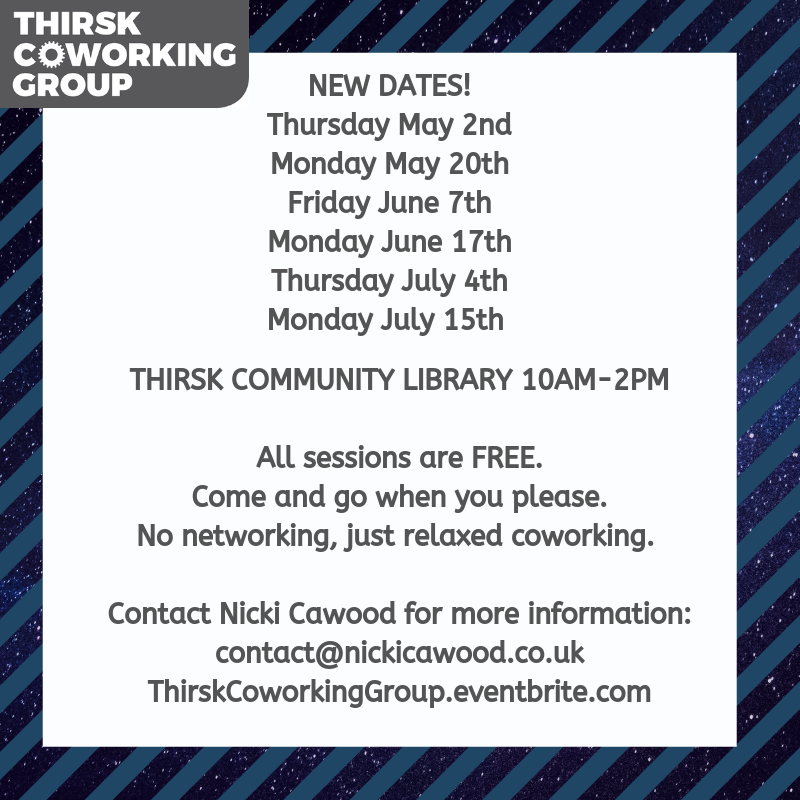 Please Note: Thirsk Community Library has kindly allowed me to arrange these sessions in the library's upstairs space and for visitors to use their free WIFI.
Please register and take a free ticket to this event so that numbers may be managed.
Please don't hesitate to get in touch with any questions at contact@nickicawood.co.uk.