Fully funded support for local businesses with Digital Advantage
Image

The Digital Advantage programme offers fully funded support to businesses across North Yorkshire (excluding York postcodes) in different ways. This support can be a 'mix and match' of the following:
Workshops. These are two-day sessions (usually held a week apart), with delegates required to attend both days. The workshops are practical; delegates are encouraged to bring along laptops, tablets etc and designed to increase knowledge and improve the use of SEO, social media etc. To book a place, simply email digitaladvantage@cueltd.co.uk. See below for forthcoming local dates.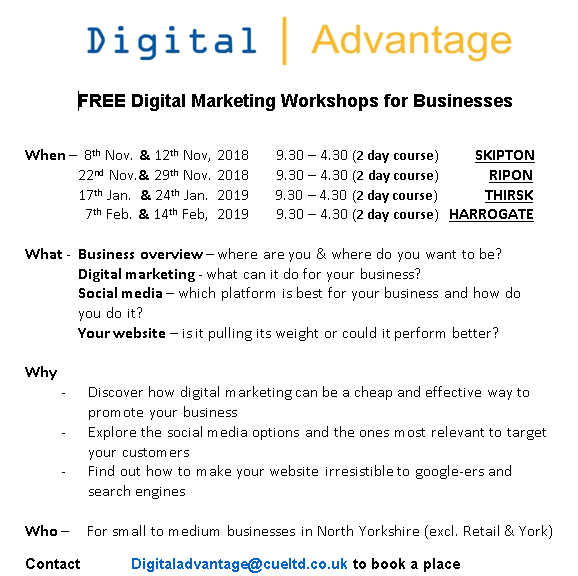 Consultancy. 12 hours (or 2 days) of fully-funded one-to-one contact with Duncan Lewis and/or a mix of support for generic marketing and digital consultancy, information, guidance, diagnostic advice and assessment of the business' digital status, etc with the view to help growth by improving the performance of the business.
 
Financial Support. Grant to support specific digital activities to meet the business' needs via consultancy eg improved website function (for example, creation of photo/video content, e-commerce, app development), digital marketing and social media, telephony strategy, embedding manufacturing processes, access to new supply chains and markets including new international markets, etc.
Type: Grant match.  Coventry University/ERDF contributes 40%, business contributes 60%
Grant minimum/max - £1,000/£5,000. Therefore overall project cost min/max – £2,500/£12,500 +
For more details about these workshops, grants, or eligibility please contact digitaladvantage@cueltd.co.uk or visit https://www.cuebusinesssolutions.com/portfolio-item/digital-advantage/